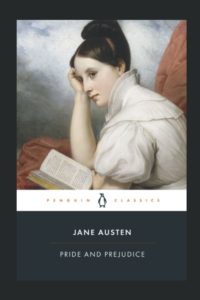 Pride and Prejudice by Jane Austen

Description (from back cover copy):
With its 'light and bright and sparkling' dialogue, its romantic denouement and its lively heroine, Pride and Prejudice is Jane Austen's most perennially popular novel. The love story of Elizabeth Bennet and Fitzwilliam Darcy, who misjudge, then challenge and change each other, is also a novel about the search for happiness and self-knowledge in a world of strict social rules, where a woman must marry well to survive.

Penguin Classics edition
First Sentence:
It is a truth universally acknowledged, that a single man in possession of a good fortune, must be in want of a wife.

Jane Austen, Pride and Prejudice
That has to be one of the better-known opening lines to a novel in the English language, no? This is the first time I've read Pride and Prejudice (or any other Austen, for that matter), and I knew that was the first sentence.
What can I say about this book that hasn't already been said? I don't know how I was never assigned this book in high school or college. I had a high school English teacher who said Austen was her favorite author (which is why I'm claiming this for Read Harder #16: "Read a book recommended by a friend with different reading tastes").
I can see why so many people adore this book. These are people and situations we recognize: family drama and romantic misunderstandings are timeless. Elizabeth Bennet is clever and witty, and subject to the same blunders as anyone else.
The Penguin Classics edition includes an introduction that explores the context in which the novel was written and would have originally been read. I appreciated the explanatory notes, as well, which briefly covered topics such as what the "entailment" meant, the various types of horse-drawn conveyances, and how much the specified amounts of money would have meant at the time.
The notes make frequent reference to other relevant contemporary works. Wollstonecraft's A Vindication of the Rights of Woman is one of them, so I think that might be on my list next.
Source: Purchased somewhere at some time, but the details are hazy.
Challenges: Back to the Classics: A 19th century classic; Read Harder: Read a book recommended by a friend with different reading tastes; Mount TBR; and Classics Club.