Time again to take a peek at the TBR and a few books I'm especially excited about in the next month. Publication dates are as listed in July 2020 and are subject to change.
The Lions of Fifth Avenue by Fiona Davis (August 4)
Sadie Donovan struggles with the legacy of her grandmother, the famous essayist Laura Lyons, especially after she's wrangled her dream job as a curator at the New York Public Library. But the job quickly becomes a nightmare when rare manuscripts, notes, and books for the exhibit Sadie's running begin disappearing from the library's famous Berg Collection. Determined to save both the exhibit and her career, the typically risk-adverse Sadie teams up with a private security expert to uncover the culprit. However, things unexpectedly become personal when the investigation leads Sadie to some unwelcome truths about her own family heritage–truths that shed new light on the biggest tragedy in the library's history.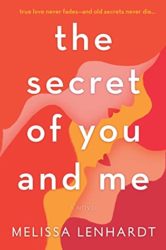 The Secret of You and Me by Melissa Lenhardt (August 4)
Sophie seems to have everything—a wonderful daughter, a successful husband and a rewarding career. Yet underneath that perfection lies an explosive secret. She still yearns for Nora—her best friend and first love—despite all the years between them. Keeping her true self hidden hasn't been easy, but it's been necessary. So when Sophie finds out that Nora has returned, she hopes Nora's stay is short. The life she has built depends on it.

But they both find that first love doesn't fade easily. Memories come to light, passion ignites and old feelings resurface. As the forces of family and intolerance that once tore them apart begin to reemerge, they realize some things may never change—unless they demand it.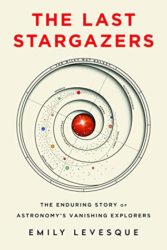 The Last Stargazers: The Enduring Story of Astronomy's Vanishing Explorers by Emily M. Levesque (August 4)
Humans from the earliest civilizations were spellbound by the night sky-craning their necks each night, they used the stars to orient themselves in the large, strange world around them. Stargazing is a pursuit that continues to fascinate us: from Copernicus to Carl Sagan, astronomers throughout history have spent their lives trying to answer the biggest questions in the universe. Now, award-winning astronomer Emily Levesque shares the stories of modern-day stargazers, the people willing to adventure across high mountaintops and to some of the most remote corners of the planet, all in the name of science.
From the lonely quiet of midnight stargazing to tall tales of wild bears loose in the observatory, The Last Stargazers is a love letter to astronomy and an affirmation of the crucial role that humans can and must play in the future of scientific discovery.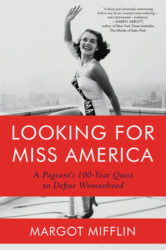 Looking for Miss America: A Pageant's 100-Year Quest to Define Womanhood by Margot Mifflin (August 4)
From its start in 1921 as an Atlantic City tourist draw to its current incarnation as a scholarship competition, the pageant has indexed women's status during periods of social change―the post-suffrage 1920s, the Eisenhower 1950s, the #MeToo era. This ever-changing institution has been shaped by war, evangelism, the rise of television and reality TV, and, significantly, by contestants who confounded expectations.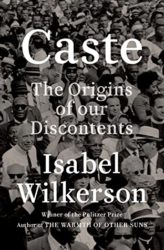 Caste: The Origins of Our Discontents by Isabel Wilkerson (August 4)
Beyond race, class, or other factors, there is a powerful caste system that influences people's lives and behavior and the nation's fate. Linking the caste systems of America, India, and Nazi Germany, Wilkerson explores eight pillars that underlie caste systems across civilizations, including divine will, bloodlines, stigma, and more. Using riveting stories about people—including Martin Luther King, Jr., baseball's Satchel Paige, a single father and his toddler son, Wilkerson herself, and many others—she shows the ways that the insidious undertow of caste is experienced every day. She documents how the Nazis studied the racial systems in America to plan their out-cast of the Jews; she discusses why the cruel logic of caste requires that there be a bottom rung for those in the middle to measure themselves against; she writes about the surprising health costs of caste, in depression and life expectancy, and the effects of this hierarchy on our culture and politics. Finally, she points forward to ways America can move beyond the artificial and destructive separations of human divisions, toward hope in our common humanity.
A Place at the Table by Saadia Faruqi & Laura Shovan (August 11)
Sixth-graders Sara and Elizabeth could not be more different. Sara is at a new school that is huge and completely unlike the small Islamic school she used to attend. Elizabeth has her own problems: her British mum has been struggling with depression. The girls meet in an after-school South Asian cooking class, which Elizabeth takes because her mom has stopped cooking, and which Sara, who hates to cook, is forced to attend because her mother is the teacher. The girls form a shaky alliance that gradually deepens, and they make plans to create the most amazing, mouth-watering cross-cultural dish together and win a spot on a local food show. They make good cooking partners … but can they learn to trust each other enough to become true friends?
Booked for Death (Booklovers B&B Mysteries #1) by Victoria Gilbert (August 11)
Nestled in the historic waterfront town of Beaufort, North Carolina, Chapters Bed-and-Breakfast is a reader's paradise. Built in 1770, the newly renovated inn hosts a roster of special events celebrating books, genres, and authors. It's the perfect literary retreat–until a rare book dealer turns up dead in the carriage house during a celebration of Golden Age mystery author Josephine Tey.
The victim's daughter points the finger at forty-two-year-old widow and former schoolteacher Charlotte Reed, who inherited the B&B from her great-aunt Isabella. Charlotte is shocked to discover that the book dealer suspected Isabella of being a thief who founded Chapters on her ill-gotten gains. Charlotte has successfully learned the B&B business in a year, but nothing has prepared her to handle a death on the premises.
The Organ Thieves: The Shocking Story of the First Heart Transplant in the Segregated South by Chip Jones (August 18)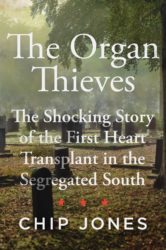 In 1968, Bruce Tucker, a black man, went into Virginia's top research hospital with a head injury, only to have his heart taken out of his body and put into the chest of a white businessman. Now, in The Organ Thieves, Pulitzer Prize-nominated journalist Chip Jones exposes the horrifying inequality surrounding Tucker's death and how he was used as a human guinea pig without his family's permission or knowledge. The circumstances surrounding his death reflect the long legacy of mistreating African Americans that began more than a century before with cadaver harvesting and worse. It culminated in efforts to win the heart transplant race in the late 1960s.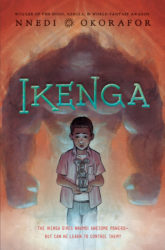 Ikenga by Nnedi Okorafor (August 18)
Nnamdi's father was a good chief of police, perhaps the best Kalaria had ever had. He was determined to root out the criminals that had invaded the town. But then he was murdered, and most people believed the Chief of Chiefs, most powerful of the criminals, was responsible. Nnamdi has vowed to avenge his father, but he wonders what a twelve-year-old boy can do. Until a mysterious nighttime meeting, the gift of a magical object that enables super powers, and a charge to use those powers for good changes his life forever. How can he fulfill his mission? How will he learn to control his newfound powers?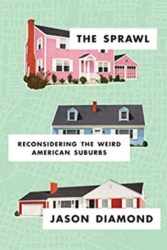 The Sprawl: Reconsidering the Weird American Suburbs by Jason Diamond (August 25)
For decades the suburbs have been where art happens despite: despite the conformity, the emptiness, the sameness. Time and again, the story is one of gems formed under pressure and that resentment of the suburbs is the key ingredient for creative transcendence. But what if, contrary to that, the suburb has actually been an incubator for distinctly American art, as positively and as surely as in any other cultural hothouse? Mixing personal experience, cultural reportage, and history while rejecting clichés and pieties and these essays stretch across the country in an effort to show that this uniquely American milieu deserves another look.