Down the TBR Hole was originally created over at Lost in a Story.

Most of you probably know this feeling, your Goodreads TBR pile keeps growing and growing and it seems like there is no light at the end of the tunnel. You keep adding, but you add more than you actually read. And then when you're scrolling through your list, you realize that you have no idea what half the books are about and why you added them. Well that's going to change!
It works like this:
Go to your goodreads to-read shelf.
Order on ascending date added.
Take the first 5 (or 10, if you're feeling adventurous) books
Read the synopses of the books
Decide: keep it or should it go?
Keep track of where you left off so you can pick up there next week!
Visit my to-read shelf to see how very far I still have to go!
The Letter Q: Queer Writers' Notes to their Younger Selves by Sarah Moon
Published: May 1, 2012
On TBR Since: July 4, 2012
There are some authors I already love in this, and I'm looking forward to reading a little bit from authors I'm curious about.
Stay or Go? Stay
Soundings: The Story of the Remarkable Woman Who Mapped the Ocean Floor by Hali Felt
Published: July 17, 2012
On TBR Since: July 5, 2012
I here for science history in general. Little-known women in science are even better.
Stay or Go? Stay
The Wild Princess: A Novel of Queen Victoria's Defiant Daughter by Mary Hart Perry
Published: July 31, 2012
On TBR Since: July 5, 2012
This is the first in a series that I'm not really interested in anymore.
Stay or Go? Go
Happier at Home: Kiss More, Jump More, Abandon a Project, Read Samuel Johnson, and My Other Experiments in the Practice of Everyday Life by Gretchen Rubin
Published: January 1, 2012
On TBR Since: July 5, 2012
It sounds like a stunt memoir, but I think Rubin goes a bit deeper than just that.
Stay or Go? Stay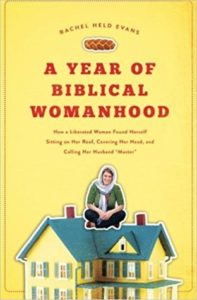 A Year of Biblical Womanhood by Rachel Held Evans
Published: October 2012
On TBR Since: July 5, 2012
This sounds very similar in concept to The Year of Living Biblically, but different in tone. While I do love a good stunt memoir, I don't think this one is for me.
Stay or Go? Go
The Obesity Myth: Why America's Obsession with Weight is Hazardous to Your Health by Paul Campos
Published: May 01, 2004
On TBR Since: July 12, 2012
The description of this is similar to the next book on the list, so I'm going to let this one go and keep the other.
Stay or Go? Go
Health at Every Size: The Surprising Truth About Your Weight by Linda Bacon
Published: October 11, 2008
On TBR Since: July 12, 2012
Keeping this one and dropping the Campos book, though I've switched editions to the 2010 revised edition.
Stay or Go? Stay
The Perfect Mile: Three Athletes, One Goal, and Less Than Four Minutes to Achieve It by Neal Bascomb
Published: April 2004
On TBR Since: July 26, 2012
Still interested in this bit of running history.
Stay or Go? Stay
A Race Like No Other: 26.2 Miles Through the Streets of New York by Liz Robbins
Published: October 1, 2008
On TBR Since: July 27, 2012
I definitely still want to read this, but it's probably going to be a while.
Stay or Go? Stay
Astray by Emma Donoghue
Published: September 5, 2012
On TBR Since: August 22, 2012
I'll read almost anything by Donoghue (still not reading Room, thanks very much), so this stays.
Stay or Go? Stay
Seven staying on the list, three going off. I'm never, ever going to reach the end of the list.