Ten of the books on my TBR coming out in March that I'm especially looking forward to:
1. The Case for Jamie by Brittany Cavallaro (March 6)
The hotly anticipated final book in the New York Times bestselling Charlotte Holmes trilogy, in which Charlotte and Jamie finally face their longtime enemy…and their true feelings for each other.
The third book in Cavallaro's Charlotte Holmes trilogy is due out next month, and I still haven't read the second book. That just means I will now get to read books two and three back-to-back, which sounds like an excellent idea.
2. Broad Band: The Untold Story of the Women Who Made the Internet by Claire L. Evans (March 6)
Join the ranks of the pioneers who defied social convention and the longest odds to become database poets, information-wranglers, hypertext dreamers, and glass ceiling-shattering dot com-era entrepreneurs. This inspiring call to action is a revelation: women have embraced technology from the start. It shines a light on the bright minds whom history forgot, and shows us how they will continue to shape our world in ways we can no longer ignore.
Ada Lovelace and Grace Hopper have been getting some long-overdue attention in the kid-lit world, but I'm super-interested in the women I haven't yet heard of.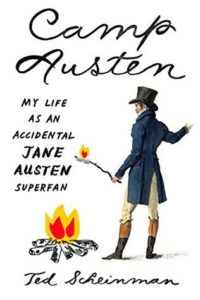 3. Camp Austen: My Life as an Accidental Jane Austen Superfan by Ted Scheinman (March 6)
In a haze of morning crumpets and restrictive tights, Scheinman delivers a hilarious and poignant survey of one of the most enduring and passionate literary coteries in history. Combining clandestine journalism with frank memoir, academic savvy with insider knowledge, Camp Austen is perhaps the most comprehensive study of Austen that can also be read in a single sitting.
True confession: I have never read Austen. I will most certainly be reading some this year.
4. Soon: An Overdue History of Procrastination, From Da Vinci and Darwin to You and Me by Andrew Santella (March 13)
Like so many of us, including most of America's workforce, and nearly two-thirds of all university students, Andrew Santella procrastinates. Concerned about his habit, but not quite ready to give it up, he set out to learn all he could about the human tendency to delay. He studied history's greatest procrastinators to gain insights into human behavior, and also, he writes, to kill time, "research being the best way to avoid real work."
Now I'm pondering whether reading about procrastination is just going to be another way to procrastinate.
5. To the Edges of the Earth: 1909, the Race for the Three Poles, and the Climax of the Age of Exploration by Edward J. Larson (March 13)
In 1909, three daring expeditions pushed to the edges of the globe, bringing within reach, for the first time, a complete accounting of all the earth's surface. In January, Douglas Mawson, as part of Ernest Shackleton's Nimrod Expedition to Antarctica, became the first man to reach the South Magnetic Pole. Soon after, Shackleton himself set a new farthest south record in pursuit of the Geographic South Pole. In April, American Robert Peary, with Matthew Henson, claimed to be the first to reach the North Pole. And in the Himalayas—the so-called "Third Pole," the pole of altitude— a team led by legendary mountaineer and dashing Italian Prince Luigi Amedeo, the Duke of Abruzzi, reached 24,600 feet, setting a world altitude record that would stand for a generation.
I'm fascinated by the Antarctic and the Heroic Age of Exploration, and I'm familiar with Mawson and Shackleton, but I haven't read much about Arctic exploration, and nothing at all about the Himalayas.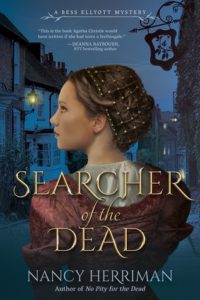 6. Searcher of the Dead (A Bess Ellyott Mystery #1) by Nancy Herriman (March 13)
Living amid the cultural flowering, religious strife, and political storms of Tudor England, Bess Ellyott is an herbalist, a widow, and a hunted woman. She fled London after her husband was brutally murdered, but the bucolic town in the countryside where she lands will offer her no solace. She still doesn't know who killed her husband, but she knows one thing: The murderer is still out there.
First book in a new historical mystery series!
7. The Curse of the Boyfriend Sweater: Essays on Crafting by Alanna Okun (March 20)
Alanna Okun knows that crafting keeps her anxiety at bay. She knows that no one will ever be as good a knitting teacher as her beloved grandmother. And she knows that even when we can't control anything else, we can at least control the sticks, string, and fabric right in front of us.
The reader reviews say this is more memoir than essays, which is fine with me.
8. Semitism: Being Jewish in America in the Age of Trump by Jonathan Weisman  (March 20)
Anti-Semitism has always been present in American culture, but with the rise of the Alt Right and an uptick of threats to Jewish communities since Trump took office, New York Times editor Jonathan Weisman has produced a book that could not be more important or timely. When Weisman was attacked on Twitter by a wave of neo-Nazis and anti-Semites, witnessing tropes such as the Jew as a leftist anarchist; as a rapacious, Wall Street profiteer; and as a money-bags financier orchestrating war for Israel, he stopped to wonder: How has the Jewish experience changed, especially under a leader like Donald Trump?
I expect this to be informative, terrifying, and important.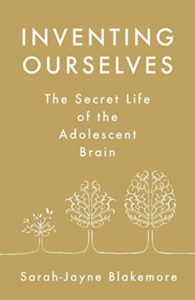 9. Inventing Ourselves: The Secret Life of the Teenage Brain by Sarah-Jayne Blakemore (March 22)
Drawing upon her cutting-edge research in her London laboratory, award-winning neuroscientist, Sarah-Jayne Blakemore explains what happens inside the adolescent brain, and what her team's experiments have revealed about our behaviour, and how we relate to each other and our environment as we go through this period of our lives. She shows that while adolescence is a period of vulnerability, it is also a time of enormous creativity – one that should be acknowledged, nurtured and celebrated.
A peek at the neurobiology behind teenage behavior? Yes, please.
10. Sherlock Holmes and the Disappearing Diamond (Baker Street Academy #1) by Sam Hearn (March 27)
Told through Watson's blog, detective notes, school assignments, media reports, and energetic comic-strip illustrations, this introduction to Arthur Conan Doyle's classic characters will have every young super-sleuth hooked!
I am always here for a new children's adaptation of the Holmes stories. It looks like this may have come out in the UK a couple years ago, but I haven't heard anything about it yet.