Back in April, I threw my name (and credit card) in the virtual hat for the 2011 Nike Women's Marathon. I had no expectation of winning. I thought they had a "3 Strikes and You're In" rule, a la the NYC Marathon, and I wanted to start the clock running. (They don't, actually. You can lose the lottery indefinitely, I suppose.)
So, of course, this showed up in my inbox: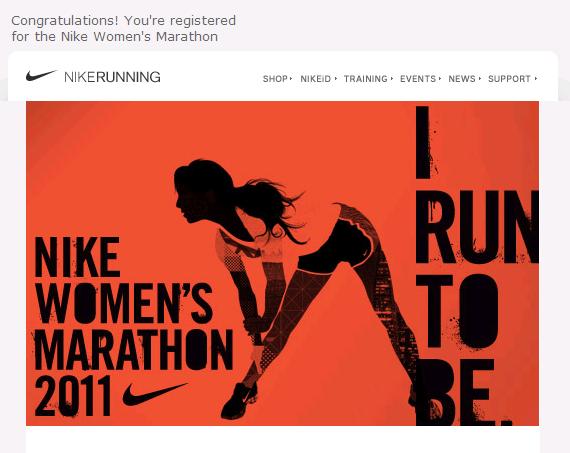 … and, at roughly the same time, a charge for the race fee showed up on my Visa bill.
Right, then.
I was in the last month of training for the Pasadena Half Marathon. I use the word "training" loosely, since after the event was rescheduled from February to May, I kind of lost my running mojo.
Still, in late May, after the Half – which took place in a downpour and gave me a time that was neither a PR nor a PW – I started Training for the Marathon. I'm using Hal Higdon's Novice 1 plan, and doing a cobbled-together walk/run combination. Short runs (3-4 miles) are on the treadmill, and 5-6 mile runs are fairly easy to route in my neighborhood (more or less). But I knew I would need somewhere with fewer traffic lights for the long runs. And also some hills, since the very flat streets around here will do me no favors in San Francisco's hills. And I didn't want anyplace too deserted.
And then I thought, "Griffith Park!"
It's got miles of both roads and trails, it's got hills, and it's got lots of people around. Ideal.
Except that I forgot about my talent for getting lost.
Last week, on a scheduled 10-miler, I decided to try out the equestrian trails, since there were lots of runners and walkers on them (as well as horses). The trails are pretty much sand, and a few miles in, starting heading upward. Up, and up, and up. Around mile 4, I had a great view of the city, but I had no idea how I was going to manage another 6 miles. After a mile or so downhill, I found my way back to the main road around the park, and stuck to that for the rest of the way.
Yesterday was a cut-back run of 7 miles. I double-checked a map and decided to run the road around the park for a loop of 5.5 miles, and then do an out-and back for the remaining 1.5. No problem, right? Just follow the road. That worked fantastically. Right up until I realized that I was closing in on 6 miles, and I was pretty sure that I was nowhere near the place I started. And then I was at a big intersection – one of the entrances to the park. Not the one I came in.
Oops.
I backtracked and found the spot where I had taken the wrong turn, then ran/walked my way around the rest of the original loop to my car. A two-mile detour that put my run at 9. As I wrote on DailyMile, "It's all fun and games until someone takes the wrong turn."
This Sunday is a 12-miler. Wish me luck.